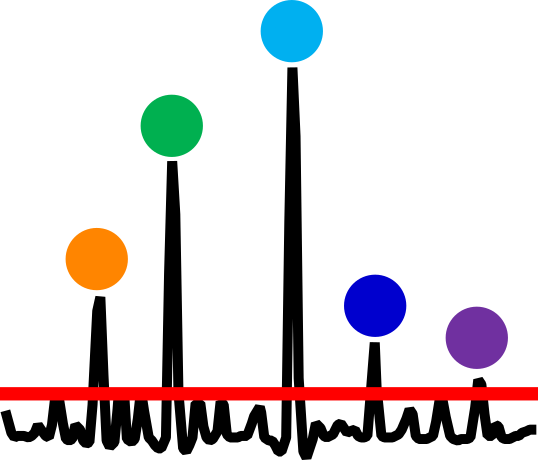 AutoPiquer is part of the AutoVectis suite.  AutoPiquer is designed to provide reliable unsupervised peak detection for mass spectra – to avoid the painful manual peak picking that many mass spectrometrists have to resort to because the normal peak detection algorithms fail to detect all the peaks.
AutoPiquer uses a novel method to generate a spectral threshold that separates those parts of a spectrum that contain regularly spaced peaks, whilst discounting low intensity regions that contain no regularly spaced peaks.  It uses autocorrelation and iteration to set the threshold in overlapping spectral windows across the spectrum.
In tests we have undertaken, Autopiquer has significantly outperformed other peak detection methods – including those that are provided with commercial software.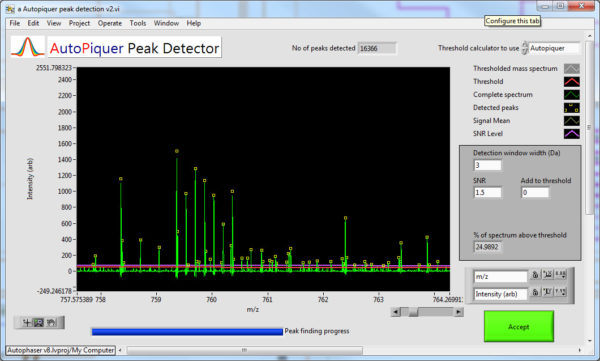 We first presented Autopiquer at ASMS 2016 – the ASMS 2016 poster on Autopiquer.  We have subsequently published the algorithm in JASMS – link.  More recently, we have been working to improve the optimization routine and improving the functionality of user interface.
Please contact us for more information about how you could use this tool to improve the speed and robustness of your spectral processing.
AutoPiquer mzML
With AutoPiquer, we can create specialist workflows to suit your specific needs.  For example, we have created a tool in order to allow AutoPiquer to be used to batch process mass spectrometry data saved as mzML files.  It can even be called from the command line:
For more information, please get in touch.
Commercial licenses and support are available for AutoVectis through Spectroswiss.
For collaborators who wish to partner in development of new features, other options are available.  Please contact us for more information and to discuss your needs and ideas.
We are happy to provide examples of AutoVectis tools' capabilities on trial data you send us for testing.  We can also supply trial versions of all tools on a test license.